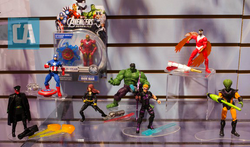 The Marvel's Avengers Assemble toyline is mainly made up of action figures released to coincide with the show's airing.
3.75" action figures
This is the "standard" line of Marvel's Avengers Assemble toys. The line includes the main cast from the series, along with a few additional characters, each equipped different accessories. The 3.75" figures consists primarily of characters and sculpts—or, at least partial sculpts—seen in previous 3.75" Marvel Universe and movie lines, but retooled with parts, colorways and accessories reflecting the show's animation style.[1] The figures, ten in all, were shown at the 2013 New York Toy Fair and are expected to be widely released in stores in Fall 2013.
Mighty Battlers
All-Star
References