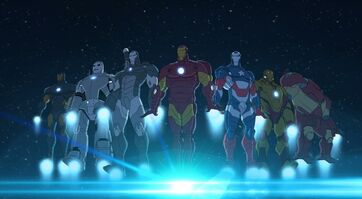 The Iron Man Armors are mutlifunctional Arc-Reactor powered armored exoskeletons designed and used in battle by Tony Stark as his main weapon. He has created several suits to better improve previous models and to create new ways to surive in various envionments.
List of Armors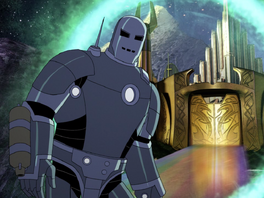 The Mark I Armor
The original suit, designed by Stark to be used to free himself from captivity at the hands of the Ten Rings. After escape, Stark created other armors but still kept the original suit and upgraded it to match the newer models.
Super Strength
Flight
Flamethrowers
Repulsors
Uni-Beam
Rocket Launcher
Enhanced Durability
The Mark II Armor
Flight
Repulsor Rays
Unibeam
THE IRON MAN MARK II NEW MODEL
Similar to the Season 2 prehensile armor, this armor is seen in "Terminal Velocity".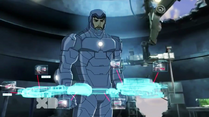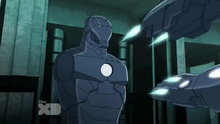 The Classic Armor
The Mark III Armor
Flight
Super Speed
Repulsor Rays
Uni-Beam
Missile Launchers
The Mark 14 "Hulkbuster" Armor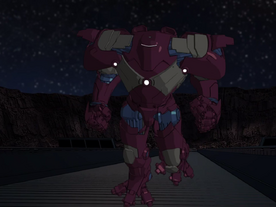 A highly armored suit designed to battle and subdue the Hulk if necessary. Also other versions exist to battle and subdue A-Bomb, Red Hulk, She-Hulk, & Skaar if necessary also.

Superhuman Strength
Flight
Repulsors
Rocket Launchers
Missiles
Invulnerability
Uni-Beam
Magnetizers
The War Machine Armor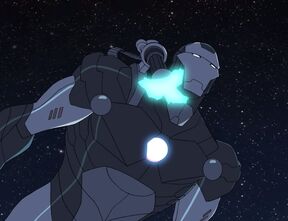 A weaponized battle suit designed for heavy artillery missions and firefights. It was actually intended Sam Wilson's suit for when how joined the Avengers, but instead he chose to wear the Red-Wing Armor instead.
Flight
Artillery
Left Shoulder-Mounted Missile Launcher
Bunker Buster "Ex-Wife" Missiles
Wrist Mounted Blasters
Stark Sonic Cannons
Repulsors
Uni-Beam
Invulnerability
Super Strength
The "Iron Patriot" Armor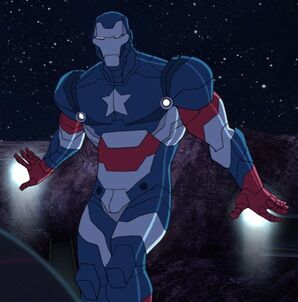 An alternate version of Stark's Mark 50 Suit that was created and used by Norman Osborn as the Iron Patriot. After Osborn returned to his identity as the Goblin, Stark claimed the armor and kept it. Unlike the other suits, this armor utilizes a palladium power core instead of an Arc Reactor, it's probable that Stark upgraded it to an Arc Reactor.
Flight
Super Strength
Repulsors
Wrist-Mounted Pulse Bolts Cannons
Arm-Mounted Missile Launchers
Red Skull
stole to become the "Iron Skull". After being defeated though,
MODOK
removed the armor including the modifications and gave it back to Stark as part of a truce.
Pre-Play Software System
Repulsors
Uni-Beam
Pulse Cannons
Missile Launchers
Rocket Launchers
Enhanced Durability
Super Strength
E.M.P. Generators
Hologram Projectors
Prototype Prehensile Propulsion System
Flight
Chemical Scanners
The Protoype Modular Armor, Stark's main suit of armor during season 1. After Red Skull and MODOK stole the Mark 49, Stark replaced it with this new suit. It uses nanontech to be able to decompress and hide itself in the armor undershealth. It also utilizes several other new technologies and abilities.
Super Strength
Invulnerability
Repulsors
Uni-Beam
Missile Launchers
Rocket Launchers
E.M.P. Blasters
Stark Probability Engine Program
Computer Hacking Systems
Autonomic Prehensile Propulsion System
Hologram Projectors
Manual System Overrides
Electrostatic Exo-Charges
Air Filter Purifier
Energy Pulses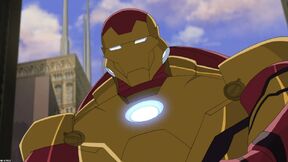 The Iron Herald Armor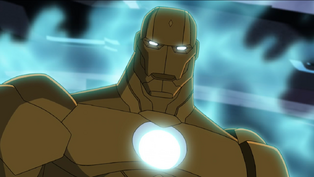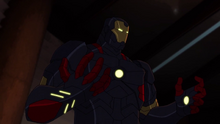 THE OMEGA ARMOR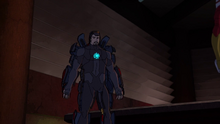 this is first seen in into the future episode
this is advanced armor created by future tony stark
its capabilites are not fully known
The Stealth Armor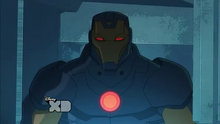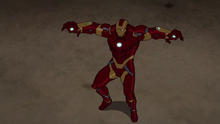 The Mark ?? Armors
Aside from the armors that are identified by name or number; there have been some shown in the background of the Avengers Assemble series,but have yet to be named or identified.

One such armor is this Unknown, gross, like Y make this armor?(or U.G.L.Y for now "cause it aint got no alibi, its ugly"). Despite it appearing in multiple seasons, and it has even apparently been rebuilt by Tony Stark for some unknown reason after being destroyed in previous episodes; it has yet to be identified. It doesn't resemble any Ironman armor designs in the comics, including the armors that were shown in the line of One-shot "What if" comics as well other Marvel properties. One theory is its an homage, maybe to Attack on Titan; another theory is it was made to look like that so, when Ultron shows up it has a face that looks like a bad guy.
Another such armor appears in the fourth season of Avengers Assemble, Secret Wars, episode Underworld. This armor resembles the Avengers: Infinity War mark 48. It is the armor Tony wears in later episodes of Secret Wars.