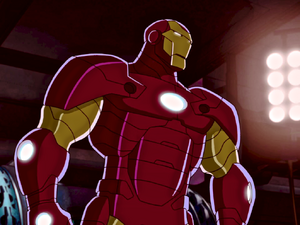 The
Iron Man Mark 49 Armor/Iron Skull Armor
, is the fourty-nineth
Iron Man armor
created by
Tony Stark
. It is one of Tony's most powerful
Iron Man's armors
in his possession, until it was stolen from him by the
Red Skull
 and was modified by
MODOK
. However after the Red Skull betrayed the
Cabal
, and attempted to destroy his former teammates, M.O.D.O.K. took the armor from him, and modified it again; returning it back to its original version, it is now in Tony's possession again.
Capabilities
Physical Capabilities/Enhancements

Super strength: The suit's energy motors allow Iron Man or Red Skull to lift and carry weights up to 100 tons, without any sense of strain.
Invulnerability/Enhanced Durability: The armor's metallic armor and built-in impact shock absorbers allow resistance against heavy arms fire and energy attacks.

Transportation

Flight: There are special repulsor ports on the soles of the armor's boots and backpack to allow flight at high levels at speeds reaching up to Mach 5.

Weaponry: The armor has a vast array of offensive weaponry at command.

Repulsor Rays: focused energy blasts emitted the palms and can repel or disintigrate almost anything.
Uni-Beam: a more powerful version of the Repulsors emitted from the chestplate.
Laser Bolt Blasters: focused laser pulse beams emitted through the underhand of the gauntlet designed and added to the armor by MODOK.
Multi-Mounted Missile Launchers: The armor contains a large array of highly explosive missiles located throughout the suit.
Other Impliments/Capabilities

Hologram Projectors
Comm. Systems
Stark Pre-Play Software System
Gallery
Users